I am Sandra Bengtson and I live in Sidney, Iowa and have assisted individuals with their family genealogy and
researched at the Fremont County Courthouse since 2012. I have also researched for historians, authors, and
professional companies looking for heirs relating to estates.
When researching a family, I use every possible resource available. After checking vital records, probate/will
filings, land records, court records, tax assessment rolls, cemetery records, newspaper archives, etc. I can compile
a report that gives a story and insight into your ancestor's life.
I mainly specialize in research and retrieval of documents on file at the Fremont County Courthouse. I will also
research at neighboring courthouses (Page County, Iowa; Mills County, Iowa; Otoe County, Nebraska) for a
minimal travel fee.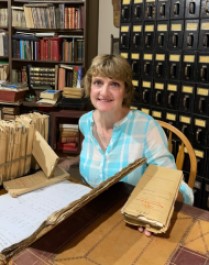 sfbfamilyresearch@gmail.com